CICT focused on building Colombo into major transhipment hub
27th June, 2016 – CICT Terminal, Port of Colombo.

Colombo International Container Terminals (CICT) which manages the South Terminal of the Port of Colombo strongly believes that competition for the Port of Colombo is not from within but from outside, and that therefore, all terminal operators must focus on growing overall volumes, CICT Chairman Nelson Liu says in this exclusive and wide-ranging interview.

Following are excerpts:
Q: It was reported recently that CICT handled 1.5 million teus in 2015. What does this mean for the company and the Port of Colombo?

A: Yes, CICT achieved over 1.5 million teus in 2015. For a new terminal in only its first full year of operation, this is a new benchmark even by global standards. For the Port of Colombo, this represents additional growth, principally through the new business attracted by the South Terminal. We are therefore very proud of this achievement. An equal share of credit must go to our customers and employees who placed their trust and confidence in CICT. Credit must also be given to the Ports Authority and relevant government agents, as we could never have achieved this without the support of the common services they provided.

Q: How much of this volume was new business that Colombo would have not normally received?

A: Approximately 70% of this volume was achieved through Ultra Large Container Carriers or ULCCs, which the terminal is designed for. This is a clear affirmation that the CICT deep water facility with its state-of-the-art equipment supported by the global port network of its major shareholder CMHI was the major catalyst in achieving this feat, as a result of which the Port of Colombo grew by 5.7% in 2015.

This growth was over and above the 14% growth recorded in 2014. The numbers speak for themselves. The Port of Colombo is blessed with its geographic location, but was unable to compete and retain its hub status when vessel sizes started upgrading. CICT was a much-needed facility that provided the Port of Colombo the opportunity to retain its competitive status and secure larger vessels by which larger volumes were transhipped.Our initial focus was to attract new volumes from Bangladesh which is a natural market for Colombo. 

These transhipment volumes were going to ports competing with Colombo, and with CICT opening up we aggressively marketed Colombo through our global network. As a result, volumes from Bangladesh grew by 44% during this period. We also made in-roads to East African cargo which was previously going through Singapore.
Apart from this CICT also managed to convince China Shipping Line which left the Port of Colombo over a decade ago, to return to Colombo. KMTC is a new customer that has never operated in Colombo. After much negotiation, KMTC made the decision to add Colombo to its network andis extremely pleased with the performance. KTMC is now looking at expanding its volumes.

Q: There have been concerns voiced in some quarters that CICT has taken business away from the JCT operated by the SLPA. Your comments?



A: s for this accusation. If the existing volumes handled by the Port of Colombo were shared by the three terminal operators, there would not have been the growth recorded. The Port of Colombo had a flat growth rate of 1% to 2% during the three years prior to CICT going into operation. In 2014 the Port of Colombo registered a growth of almost 15% and CICT had a market share of 14% of the volumes of theentire Port of Colombo during that period. As I said before, these numbers speak for themselves. Our market share is reflected in the double digit growth experienced by the Port of Colombo after almost a decade.

Q: Is there an agreement that restricts CICT from handling regular clients of JCT or SAGT?

A: There is no regulation in place for the three common user terminal operators. The market is open, and that in fact is one of the plus points for the Port of Colombo, where shipping lines have a choice of three terminals to select from. There is no other hub port in the region that provides such an advantage to the lines. However, our objective isto bring in new volumes, and hence we cater to a niche market where all our focus ison attracting the mega carriers to the Port of Colombo.

Q: Do you think that competition between the three container terminals is good for the overall growth of the Port of Colombo?

A: Healthy competition is always good. It keeps all three terminals at their best. None of the terminals can relax as shipping lines have a variety of options. It is however important that intra-terminal competition is not the main focus. Our primary competition is with international transhipment hubs rather than within the Port. It is vital that we identify this and ensure the Port of Colombo and its key strengths are at the focal point of all publicity. Colombo has much potential in the international arena and no single terminal can operate on its own and secure the growth. Working as one entity, namely the Port of Colombo, is our strongest position.

Q: What is the capacity utilisation represented by the 1.5 million teus handled by CICT in 2015?

A: CICT has a design capacity of 2.4m teus. However, we feel that with efficiency and technology, we should be able to push the volumes to 3 million plus teus.

What are the prospects in 2016 for CICT to utilise its remaining capacity?

The market is currently extremely weak and shipping lines globally are in a fragmented state. Given the state of the industry where consolidation among the lines is taking place, we are engaging in constantnegotiationsto push more volumes through Colombo. We are targeting around 15% to 20% growth during the current year.

Q: Is further investment in increasing capacity envisaged?

A: CMHI has a lot planned for Colombo. There is a lot of interest in expanding capacity through the use of more technology. We are using the resources of CMHI to bring in this technology.

Another key area for CICT is to play a proactive and lead role in reducing the carbon footprint in the terminal/port industry in Sri Lanka. As part of this, CICT recently became the first terminal in the Port of Colombo to introduce the electronic boat note which has been approved and accepted by the Customs Department of Sri Lanka. While credit needs to be given to the Customs Department for facilitating this innovative move by CICT, it must be noted that this is a major breakthrough for the whole of the shipping industry and its stakeholders.

CICT has also launched a $ 10 million program to convert its fleet of diesel operated rubber-tyred gantry cranes to electricity driven rubber-tyred gantry cranes (E-RTGs). The E-RTGs will have zero carbon emissions and reflect our commitment to reduce greenhouse gas emissions in the Port of Colombo and the maritime industry as a whole.

Q: How will the opening of a fourth container terminal, the East Terminal, impact on the operations of the Port and the three terminal operators?

A: As you may know, the whole of the Colombo South harbour project was behind schedule by about five years, and currently CICT is the only deepwater facility in Colombo. Therefore there is an urgent need for us to increase additional deep draught facilities in Colombo, before the international competition beats us to the post.

The opening of the East Terminal will, of course, introduce a new element of competition but that is good for all stakeholders in the industry.

However, I must emphasise that Colombo is essentially a transhipment hub and will remain so for the short to medium term. In such a scenario, the competition for Colombo is not from within but from outside of Colombo. Therefore with regard to the East Terminal, it is imperative that the government of Sri Lanka/Ports Authority introduces the necessary ground rules to ensure that if any port operators who are in competition with Colombo are to be considered as potential bidders, they must guarantee throughput volumes as well as other safeguards such as controlling shares to the government/Ports Authority, even though the operator can have management control. This will assure the growth of the Port of Colombo as a transhipment hub port.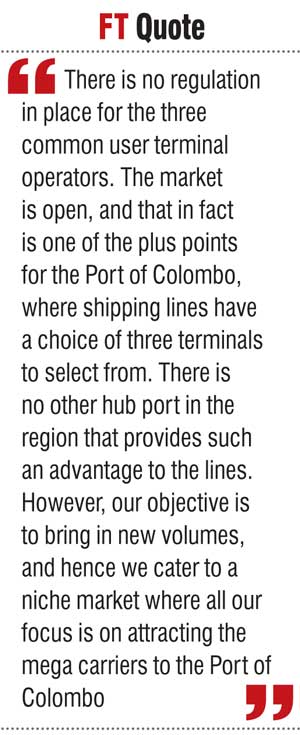 Q: Would CICT be interested in managing the fourth terminal, and how would the company use the two terminals to maximise throughput?
A: CICT is very serious and interested inmanaging the East Terminal. As you know, CICT is majority (85%) owned by CMHI (China Merchants Holdings International) which is a listed and Hang-Seng indexed company inHong Kong. It is the world's second largest terminal operator by volume, managing over 50 terminals globally, and most importantly, none of the terminals which are managed by CMHI are in competition with Colombo.

It is critical for the Port of Colombo to recognise and ensure that Colombo's competition does not get a foothold in Colombo. Colombo is totally dependent on transhipment cargo which can be moved out overnight to any competing location.

Looking at all the major shipping line alliances that exist and may exist in the future, it is evident that the ships are only getting larger. An average vessel that calls at CICT now is around 380m. We have a total berth length of 1,200 m. The bottleneck is on the water front. As explained previously there are many negotiationsgoing on for the formation of large alliances and if we are to maximise this, additional berth space would be required.

We are committed to developing Colombo and that is one reason why CICT/CMHI has no reservations about the government of Sri Lanka/SLPA holding a majority share of the East Terminal with management control being with us. Because CMHI operates a network of over 50 terminals across the globe, which are not in competition with Colombo, there is much potential for linking the networks and growing the volumes via Colombo.

Q: There has been an opinion voiced that CMHI's 85% ownership of CICT is detrimental to the interests of the SLPA. How did CICT get an 85% stake in CICT?

A: I am happy you have asked me this question. When the RFP for the South Terminal was released, there were many potential bidders who picked up the documents. But, there was only one bid that was submitted, and it was by our consortium. This was mainly due to two reasons. Firstly, Sri Lanka was at the height of its war and investors were reluctant to make such a major investment in a country that was in almost a civil war situation. Secondly, the worst ever global economic crisis was at its peak.

However CMHI together with Aitken Spence (a listed company in Sri Lanka) took the plunge. We submitted the bid. It was awarded tous and the shareownership was split with CMHI having 55%, Aitken Spence 30% and SLPA 15%. This was the mandatory SLPA share as per the concession agreement requirement determined by the Government of Sri Lanka. 

However at the time of construction Aitken Spence decided to sell its shares and exit the project. As per the agreement, CICT bought its proportionate share and the balance was offered to SLPA. 

However, SLPA could not come up with required funds within the stipulated period. CMHI gave the SLPA an extended time period to come up with the funds, as we were very keen to see SLPA having more equity in CICT. 

But after the extended time period, SLPA confirmed its non-interest in taking additional equity in CICT. 

That is how CMHI ended up with 85% ownership. I hope I have clarified and cleared any doubts about this matter.

Q: Your detractors have alleged that CICT's agreement with the SLPA was secured by a payment of Rs. 19.41 million to the Pushpa Rajapaksa Foundation. How would you respond?

A: Firstly, I must state for the record thatCICT is a responsible corporate citizen. In fact our parent company CMHI has its own charity foundation through which we take part in various social responsibility projects globally.

Giving back to society and helping to eradicate poverty and uplifting the poor and the homeless are part of the CSR activities that we as a group participate in and take pride in doing so. It is in our corporate DNA.

Yes, we did make a contribution of Rs. 19.41 million to the said foundation for the specific purpose of constructing houses for the poor segments of the Sri Lankan community. 

This donation was made long after the project concession agreement had been signed and construction work on the terminal had already commenced. This payment is clearly reflected in our audited accounts for the relevant year. 

Therefore the allegation that the payment is tantamount to a bribe is factually incorrect and baseless.

I would also like to highlight some of the other corporate social responsibility activities that CICT and its parent company haveinitiated in Sri Lanka. 

These initiatives includesupporting the victims of the Koslanda landslide with cash donations and rations; sponsorship of the Wheelchair Tennis programme of Sri Lanka Tennis Association (SLTA); and a donation through the China Merchant Charity Foundation of foldable intraocular lenses and cartridges worth $ 60,000 along with an allocation of $ 200,000 for cataract surgeries for needy patients under the 'Tribute to love, China – Sri Lanka Free Cataract Surgery Campaign'. 

The most recent initiative was the donation of goods amounting to approximately Rs. 5 million for the victims of the recent floods.

Q: What do you expect in the year ahead in your sphere of business?

A: Going by the trend experienced in the first quarter of the year, the Port of Colombo is looking at 10% growth overall. However it will be a challenging year. With all the mergers and acquisitions taking place there is a fair amount of uncertainty in the industry. 

However, we remain positive and focused. CICT will draw in all efforts to stay competitive in the international arena and secure the ULCC /VLCC vessels to the Port of Colombo.  We are extremely focused on moving the Port of Colombo forward as the transhipment hub in this region.
- See more at: http://www.ft.lk/article/550954/CICT-focused-on-building-Colombo-into-major-transhipment-hub